Yessie

Power

Waters

Age

17

Relationships

Unknown birth parents, Sarah (adoptive mother)

Birthday

September 27

Pets

Nannie the bunny

Pixie

Shane, Guardian Pixie of Aquaria

School

Mirabella High School(Earth school)

Aquaria College for fairies(formerly)

Alfea College

Origin

Aquaria

Weapon of choice

None

Social Status

Princess of Aquaria
Yessie is the leader of the Sparkles Team and the fairy of waters. She first appeared in the pilot episode of Magical Sparkles.
Personality
She is a very good person, compassionate, and loving. Sometimes she would get angry when her mother, Sarah, would scold her for being late for dinner.
Outfits
Winx
Her Winx outfit is a blue top with two straps hanging in her shoulder, a blue short, blue gloves and shoes with the same characteristics. Her wings is spade-like in shape and with cyan colors and teal edges.
Enchantix
coming soon..
Believix
coming soon..
Sophix
coming soon..
Lovix
coming soon..
Harmonix
coming soon..
Sirenix
coming soon..
Civilian
Seasons 1 and 2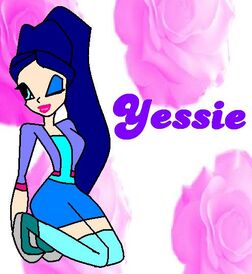 Yessie wears a cyan undershirt, violet jacket with pink tips, a blue short, cyan over-the-knee socks and teal shoes with round bases. Her bangs is tied to the side, while the rest of her hair is tied upwards and flows down up to her legs.
Cyanist
Her cyanist outfit consists of a dress, short gloves, wedge sandals and under-the- knee shoes. All of it are cyan and her hair is pulled by a cyan ponytail to a small bun that lets the other hair to fall down.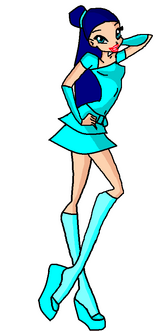 Ad blocker interference detected!
Wikia is a free-to-use site that makes money from advertising. We have a modified experience for viewers using ad blockers

Wikia is not accessible if you've made further modifications. Remove the custom ad blocker rule(s) and the page will load as expected.