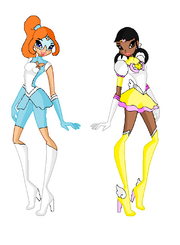 Winx Ranger is a fan transformation for the Winx girls. They do this just for fun once, then again for rescuing Rosie. The Winx only used this twice.
Achievement
This must require a move:
Perfect Harmony
When the fairies use this move, they must chant, "Turn us into superheroines!"
Appearence
The fairy will change into a colored suit (depends on the fairy's main color) with white boots and colored gloves, but no wings. The suit will have miniature wings in front on the right. The fairy will also have her hair up in a ponytail, pigtails or in a bun.
Images
Trivia
A Winx Ranger is based on:
Power Rangers
Alicia's Super Winx ranger costume is based on:
Sailor Moon
Ad blocker interference detected!
Wikia is a free-to-use site that makes money from advertising. We have a modified experience for viewers using ad blockers

Wikia is not accessible if you've made further modifications. Remove the custom ad blocker rule(s) and the page will load as expected.