Snow Frost is from Iciena (credit of world goes to icy-blue-rose on dA) and is a commoner. She is the fairy of winter and is the daughter of Jack Frost who's from Earth. Her first appearance was in Season 2 of Winx Club: Codex and becomes the newest member after Aster leaves the group to be homeschooled.
History
Snow is the daughter of Kasey Mints and Jack Frost. She lives with her mother and 3 half brothers. At a young age she lost her left eye due to one of her brothers Accedintely poked her with an icicle. She just joined Alfea as a Sophomore and is very shy, yet curious about everything and everyone around her. She's never been around many people due to living out in the middle of no where with her family. Though on her 15th birthday she was allowed to stay with her father on Earth for a week and since then she's loved anything to do with Earth!
Powers and Abilities
Snow's way of battling is playful like. She is weak during the summer or in hot areas and stronger in cold areas.
Her spells can take the form of snowballs, icicles, snowmen, and anything else wintery on Earth.
Snow's Companions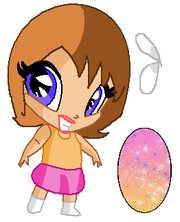 Star
Snow's bonded pixie and the pixie of stardust. Star is just as quiet as Snow and she seems to know when to name off stars at night to help Snow fall asleep.
Kit
Snow Fox given to her by her father, Jack, when she went off to Alfea for her Sophomore year. Kit is quite the curious fox and he knows when to show up when Snow needs some cheering up.
Official Transformations
Snow's way of battling is playful like just like her father with his job. She is weak during the summer or in hot areas and stronger in cold areas.
Magic Winx
She wears a long sleeve short light blue dress with fur on the neckline, wrists, and bottom of the dress. Her thigh high shoes are the same blue as the dress and is more like socks than shoes. The wings have the same blue as her dress but purple in it as well.
Spells: Snowball Sphere, Icicle Rain
Magic Charmix
Snow earned Charmix when she overcame her insecurity of her left eye.
Enchantix
She earned Enchantix when she saved her brother Wolf Mints (who's blind) from a witch. Her Enchantix Bottle represents her big heart. She love her brother Wolf more than anything else in this world.
Spells: Mini Blizzard, Icy arrows
Believix
(image coming soon)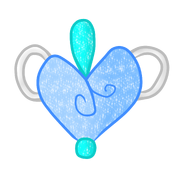 She earned Believix when she was able to get children on Earth to believe in both her father, Jack Frost, and magic.
Spells:
Special Spell: 
Sophix
(image coming soon)
Spells:
Lovix
(image coming soon)
Spells:
Harmonix
(image coming soon)
Spells:
Sirenix
(image coming soon)
Spells:
Fan Transformations +credits
Arctix- belongs to Icy-blue-rose
Other Outfits
Snow's Winter Outfit-
Snow's Pajamas- Done!
Credits
Snow's name picture done by skeiter-girl on dA. Link to the original commission: http://skeiter-girl.deviantart.com/art/Snow-Frost-Commission-347777312
World belongs to Icy-Blue-Rose on dA: link to her profile: http://icy-blue-rose.deviantart.com/
Snow's Enchantix Bottle bought from Icy-Blue-Rose
Pixie bought from Ashley1276 link to her profile:  http://ashley1276.deviantart.com/
Charmix Charms, Harmonix Wings and snow fox done by Charmedwings link to her profile: http://charmedwings.deviantart.com

Snow's Enchantix Wings bought from: TheQueenOfFairies link to profile: http://thequeenoffairies.deviantart.com/
Ad blocker interference detected!
Wikia is a free-to-use site that makes money from advertising. We have a modified experience for viewers using ad blockers

Wikia is not accessible if you've made further modifications. Remove the custom ad blocker rule(s) and the page will load as expected.