Seraphina is the Fairy of Flames. Her home planet is Domino, where Bloom's daughter, Alis and her husband - Matt, rules. She is a member of the Chantix and is titled as "the flames that gives the Chantix courage and strength".
Please do not edit, copy the information/photos/style, don't mess this page, don't even think and claim her as yours! Thank you! ✿RoseForever✿ ~ ✿Forever I'll be a rose!✿ 16:00, May 8, 2013 (UTC)
Personality
She is the most friendliest girl in her realm. She is quite known for her friendliness and generosity. She is sometimes bitter and gets to be a burning flame when she's angry. Seraphina doesn't cry at times, since she is the fairy of Flames. She sometimes act like a boy, but that doesn't mean that she's a tomboy. If ever Seraphina is in rage, her eyes turn to fiery red.
Series
Coming Soon...
Appearance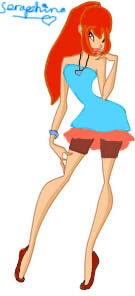 Seraphina has a red hair, pale skin complexion and blue eyes.
Her Season 1 outfit is a red tank top with two arm-like bracelets that holds her top. Her bottoms is a blue skirt, which is kind of short that ends at her thigh. She wears blue doll-shoes and two matching bracelets and she wears a clip that is shaped into a flower.
Powers and Abilities
Seraphina has the power over fire. It must be true that her powers also comes from Bloom's which is the Dragon Flame. She can control flames/fire and can absorb them. She can also make the flames do what she thinks/wishes in her mind. 
Trivia
The name "Seraphina" means "burning ones" and has a Hebrew origin. Latin and feminine form of Hebrew Seraphim. In Jewish scriptures, the seraphim are the highest-ranking of angels of God (above angels, archangels, cherubim, etc.). They have six wings and are known for their zelous love. It is also a name of a fifth-century saint.
Seraphina's signature consist of a shade of red. 
Ad blocker interference detected!
Wikia is a free-to-use site that makes money from advertising. We have a modified experience for viewers using ad blockers

Wikia is not accessible if you've made further modifications. Remove the custom ad blocker rule(s) and the page will load as expected.