Rose Foresta is frist seen in the prologue of Winx Club: Codex. For the first few season she's an orphan but in then in season 5 she finds out she's a princess. She's the leader for the Codex Club.
History
Rose is found on Sparks/Domino by the Winx and is taken in by a family from Magix. She has no wings like the rest of the fairies for it's a form of transformation that her real family created long ago. The Codex Transformation is known for having no wings, a weapon, and a uniform of two colors the Fairy likes. Rose is the key to unlocking the transformation and goes on a journey with her new friends to unlock the Codex. Rose finds out she's the lost princess of Zo'ell. The planet is filled with more plant growth than with cities.
Rose's Companions
Thorn
Pixie of Trust and Rose's bonded pixie. He's known to distract Rose from her worrying
Prince
Prince is Rose's Snow Kitsune, knows when to pop up and help Thorn distract Rose.
Power and Abilities
Rose is the fairy of ice and water. She's capable of producing water out of air and can transform it into ice if it's the right temperature. In colder areas she can use her ice magic. She's most powerful in colder areas than warmer cause her water magic is like healing magic.
Official Transformations
Magic Winx
(image coming soon)
Spells:
Charmix
Enchantix
Beleivix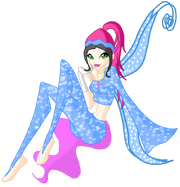 She got Believix when she was on Zo'ell her home planet, The people that still lived there in the City of Animalia had forgotten about the past and there for don't believe in magic and fairies. 
Spells: Trust of the heart-  Her power helps people trust those close to them as well as teach them to trust with their heart as well.
Credits
pet bought from bayflightStudios link to profile here: http://bayflightstudios.deviantart.com/
Ad blocker interference detected!
Wikia is a free-to-use site that makes money from advertising. We have a modified experience for viewers using ad blockers

Wikia is not accessible if you've made further modifications. Remove the custom ad blocker rule(s) and the page will load as expected.