It's a fairy life!

This article is a B. Meaning that this page is missing some sections and images needed to be added.
Princess Lyrianna Lyria Larevena

Nicknames

Lyria or Lyrianna

Age

16

Associations

TBA

Birthday

May 31

Origin

Affiliation(s)

Magical Abilities

Sound-based spells
Sonic blasts
Music-based spells

First Appearance

Relationship(s)

Described as

The Magical Harmony of the Chantix
Princess Lyrianna Lyria Larevena
hails from the second moon of Melody,
Vocalia
. She is the daughter of King Ethan and Queen Cecilia. She studies at
Alfea
 and is a member of the
Chantix Club
.
Please do not edit, copy the information/photos/style, don't mess this page, don't even think and claim her as yours! Thank you! ✿RoseForever✿ ~ ✿Forever I'll be a rose!✿ 15:49, May 8, 2013 (UTC)
Personality
Lyria is a talented, sweet and charming girl. She loves to sing, dance and play many musical instruments. 
Series
Season 1
Coming Soon...
Appearance
Lyria has a purple hair and eyes. She wears rocking style outfits and sometimes stylish outfits from Eliana. 
Chantix
Lyria wears a blue dress with a pink gem in the middle. Pink gloves, blue and pink shoes. She wears a music chocker and her wings are cyan and blue. Her hair is also tied.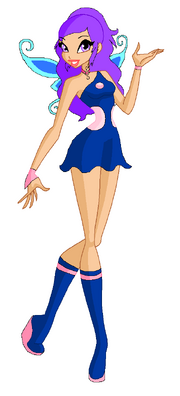 Powers and Abilities
Lyria has the same powers as Musa. She has sonic-based spells and music-based spells. 
Chantix
Coming Soon...
Curiosities
Full name: Lyrianna Lyria Larevena
Birthday: May 31
Astrological sign: Elf
Favourite Food: Spicy food & pizza
Favourite Color: Purple & Violet
Favourite Hobby: Making music
Favourite Pet: Bunnies
Ideal Boyfriend: David
Best Friend: Seraphina
Favourite Movies: Musicals and/or videoclips
Loves: Playing instruments and performing on live stage
Hates: Bullying
Favourite Music: All of the music! 
Favourite Shoes: Comfortable ones :D!
Favourite Subject: Musical Creation
Favourite Spell: Musical Harmony
Trivia
The name "Lyria" means "lyre".

She shares this name with Lyria from the Tinker Bell series.

Lyria's favourite musical instrument is the piano and the concert flute.
Ad blocker interference detected!
Wikia is a free-to-use site that makes money from advertising. We have a modified experience for viewers using ad blockers

Wikia is not accessible if you've made further modifications. Remove the custom ad blocker rule(s) and the page will load as expected.