Alicia has many outfits for many occasions.
Civilian
Season 1
She wears a simple yellow long-sleeved shirt, dark blue jeans and black mini-heels. She always wears glasses in all of her civilian outfits.
Season 2 and 3
Her concept second outfit is a pink harajuku-like outfit. Pink long-sleeved shirt, light pink frilly skirt with pink striped white over-the-knee socks and her black mini heels. The accessories are most likely caused by Breeze.
The third alternate civilian is a light pink short-sleeved hoodie shirt with magenta shorts and black flats.
Back to School
She wears a somewhat like a school uniform. A white buttoned short sleeved shirt with a red ribbon bow, a grey skirt, a yellow opened cardigan, white knee socks and white heeled mary janes.
Season 4
Her alternate outfit consists of a light blue and white striped shirt covered by an orange vest, blue knee length pants and orange wedge shoes that almost looks like sneakers. This became her season 4 outfit.
Formal Dresses
TBA
Swimwear
TBA
Ice skating
TBA
Raincoat
TBA
Date
TBA
Dance exercise
TBA
Wedding
TBA
Western
TBA
Singer/Rockstar
TBA
Frutti Music Bar/Winxtisserie
TBA
Love and Pet
TBA
Hallowinx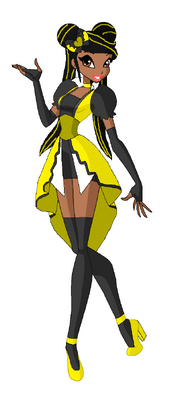 Misc.
TBA
Trivia
Alicia's wedding appearance is based on Queen Lumina (Magical DoReMi)
Alicia's Hallowinx is based on Akiza Izinski from Yu-Gi-Oh 5D's. However, her hairstyle is based on Serena/Usagi/Sailor Moon.
Ad blocker interference detected!
Wikia is a free-to-use site that makes money from advertising. We have a modified experience for viewers using ad blockers

Wikia is not accessible if you've made further modifications. Remove the custom ad blocker rule(s) and the page will load as expected.