Emily is the fairy of fun.Where ever she uses her magicit turnsfun.
Powers
She can make thins boring and put them to sleep.She can make people funny and boring. She can make games and other things fun and boring.She can give pain to the enemy by making them laugh so hard that they usually faint.
Normal outfit
Her normalout fit is a blue top with a belt and a green skirt and blue boots with a band in her hair.
Winx outfit
Her Winx outfit is blue with green wings and pink stockings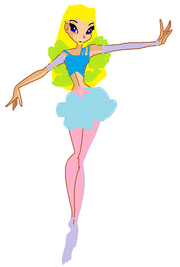 Ad blocker interference detected!
Wikia is a free-to-use site that makes money from advertising. We have a modified experience for viewers using ad blockers

Wikia is not accessible if you've made further modifications. Remove the custom ad blocker rule(s) and the page will load as expected.